"Think where mans glory most begins and ends, His glory was he had such family and friends"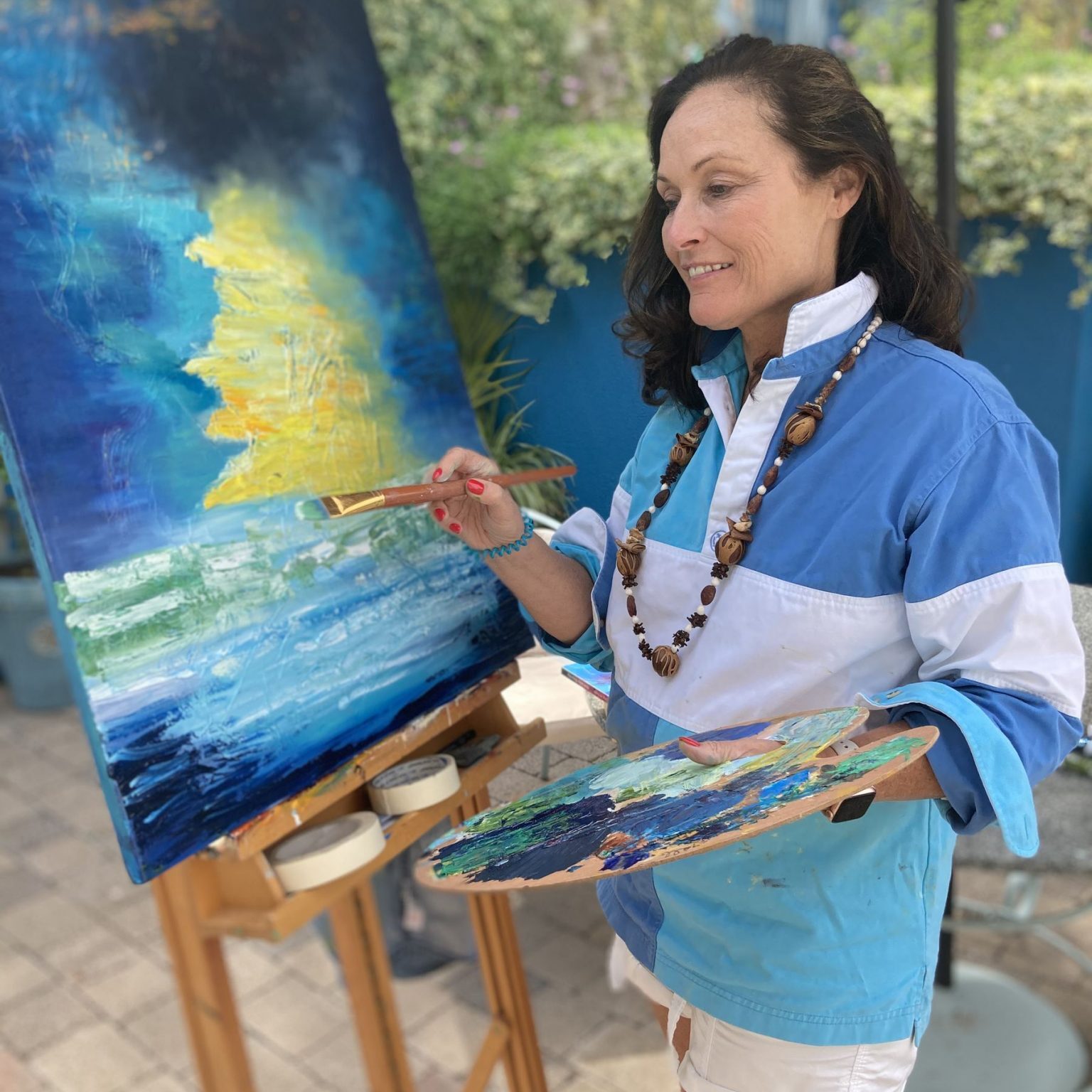 Cathy Hughes grew up in Westport, Co Mayo, in the West of Ireland. Born into a family of 13 children who tragically lost their Mother in her 40's, she has faced many ups and downs in her lifetime. These challenges have propelled her towards working things out on a canvas.
She spent her summers in nearby Old Head, Louisburg and on Inis Mór, the largest of the Aran Islands. The colours of the landscapes, the maritime environment and the imagery of Celtic mythology found in these locations have been a significant and ever-present factor in her art.
Cathy has been immersed in Irish arts and crafts since she was a child. An early influence was her mother, Maura Kelly (a cousin of the famous Oscar winning actress Grace Kelly), who specialised in Irish antiques and began the Irish craft and knitwear business Carraig Donn Industries in Westport, Co. Mayo.
While studying at University College Dublin, Cathy spent her summers working in the family craft shop on Inis Mór. Surrounded by the locally produced, handmade Aran sweaters, and immersed in the thriving indigenous industry, Cathy's works hint at the tactile textures of wool and hand-spun textiles. Her fascination with the stitches and design of the Fishermen's oil wooled sweaters, their boats and currachs, and the very stone walls of the Aran Islands has influenced Cathy's art.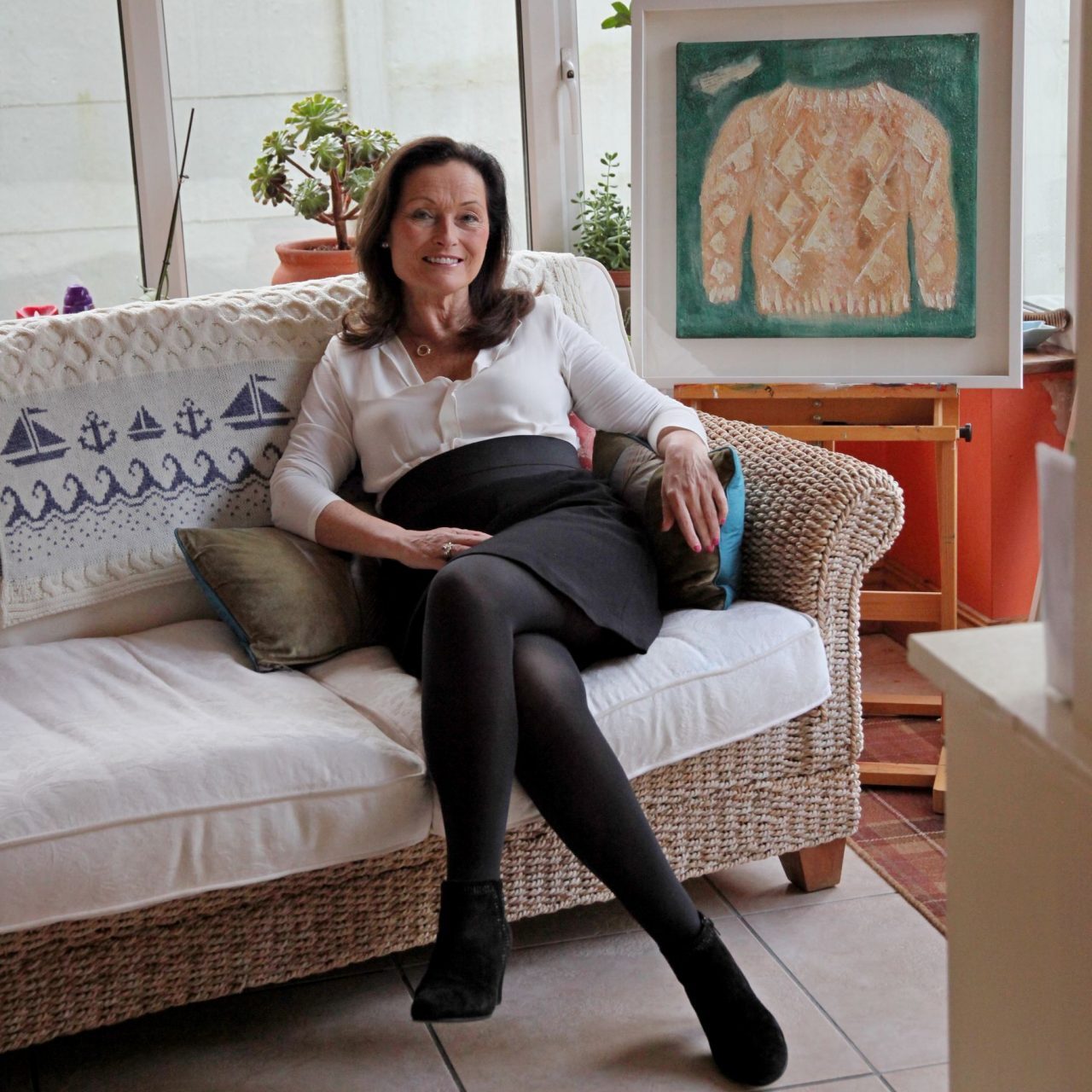 Her recent work has tended more towards abstract painting, utilising mixed media to communicate vibrant, colorful shades of Ireland's rich heritage. She has used the Aran Wool from her family's Knitwear business called Aran Woolen Mills in Westport, Co. Mayo. Sand from the beaches of Mayo, shells, nets and twine from the fishing villages, antique Irish maps and old stamps are other various mediums she has featured in her art.
Over the years she has regularly attended the Burren College of Art and is a member of a prominent local art club in Galway city.
Today she counts a number of West of Ireland and International artists as mentors and inspirations. These include her late cousin Owen Walsh, his son Canadian artist Ronan Walsh, alongside Mayo's own Tony O'Malley and Galway's Brian Bourke. Cathy has had the opportunity to view Jack B. Yeat's original paintings and was inspired by his great imagination and wonderful colours and brushstrokes. Other early 20th century inspiration includes Nora McGuinness, Mainie Jellett and Roderic O'Connor.
As well as selling her original artwork online, Cathy's latest products include Fine Art Prints on Hahnemuhle Fine Art German Etching 320gsm. Free shipping on all prints worldwide.
Throughout Cathy's life she has been painting as a means of creative output. Influenced by the West of Ireland, Co. Mayo, Galway and the Aran Islands. She absorbs the colours of the rich, rugged landscape and is inspired by Celtic mythology and the maritime imagery.
Recently Galway was nominated for the European City of Culture for 2020 and Cathy was included in a documentary by Award Winning Producer and host of GlobeTrotter TV, Jon Haggins. In this, Cathy speaks of her Aran Stitches abstract and mixed media art series. 
She has also been involved in many art exhibitions and most recently she hosted a successful sell out exhibition 'Belonging' at the National University of Ireland, Galway. She has also been involved in various group exhibitions in the Galway Museum.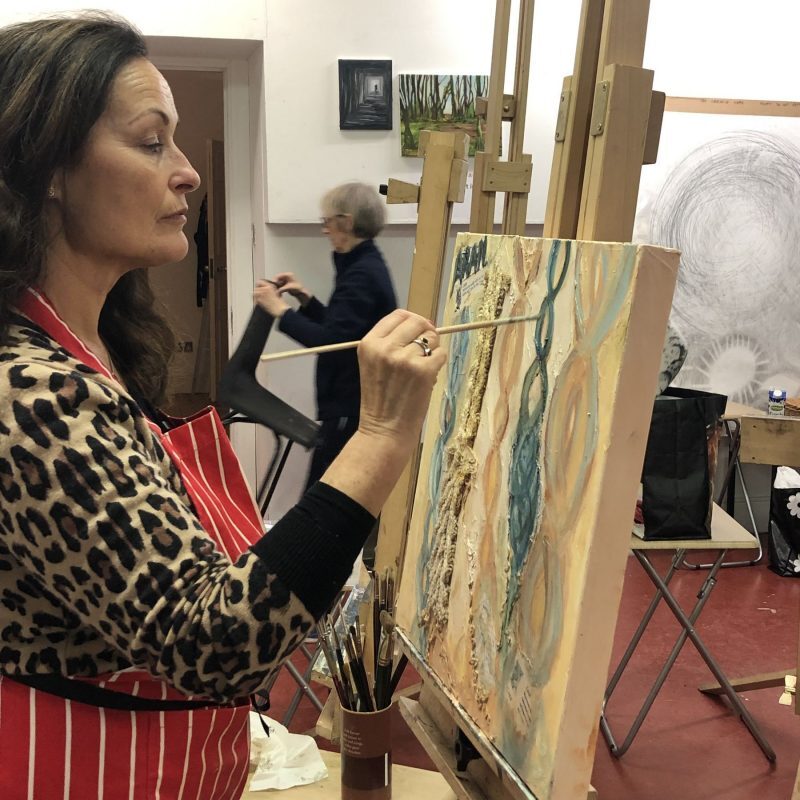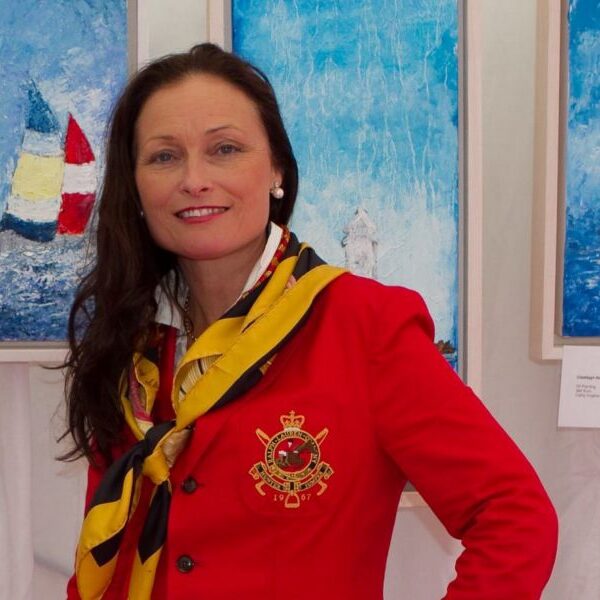 Cathy's Art is in many private collections including that of HRH Prince Albert of Monaco which was presented to him and Princess Charlene on a state visit to Ireland. The piece presented was one of a pair of paintings called the 'Marriage Knot' inspired by the Book of Kells. The second piece is available for sale.
Did you know? PURCHASING ART - CAPITAL ALLOWANCES
In Ireland, an art buyer can allow the purchase cost of artwork against tax, provided that the artwork is placed in his/her place of business where the public can view it. Suitable sites are reception areas, common access meeting rooms and canteens. The establishment of a company art collection is a very 'tax-effective' acquisition as the annual 'wear and tear allowance' on this capital expenditure is, at the time of writing, 12.5% per annum and, consequently, most of the purchase price can be recovered.
If you wish to see any of Cathy's original Art works, you can arrange a visit to her home studio by appointment.
Email: Cathy@hughes.ie   |   Phone +353-87-2359152